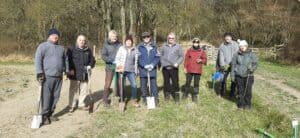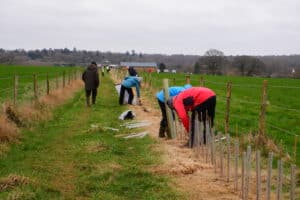 Over the last few weeks, Surrey Hills Society has engaged with over 200 volunteers at a range of locations across the AONB.
Working in partnership with landowners and farmers, the Society has been coordinating volunteers to assist with the planting of native hedgerow and trees, to increase connectivity and habitat in the Surrey Hills.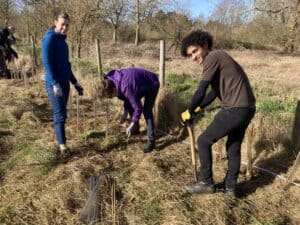 The Society has engaged with members of the community, secondary school students, corporate staff teams and members of the Surrey Choices Growth Team, who all have the common aim of wanting to contribute positively to the environment. It has been wonderful to witness the enjoyment of volunteers, in learning more about both the environment and each other, as well as experiencing the benefit of being outside.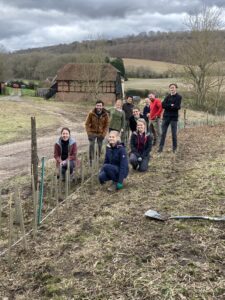 So far, this incredible volunteer workforce has helped to plant approximately 1.5km of native hedgerow, which will help to benefit both people and nature in years to come. By the end of the planting season, in March, the Society hopes to extend this by a further 1km.
The Society is currently developing Spring and Summer volunteering and community engagement opportunities, so please keep your eyes peeled for more details and please get in touch if you would like further information.
Many thanks
Christa Emmett
Project and Volunteer Coordinator
Surrey Hills Society
christa4surreyhills@gmail.com