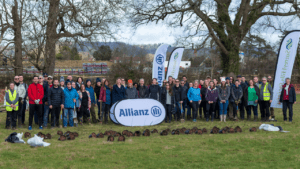 On Friday 25th February, Surrey Hills Society helped to deliver the first Surrey Hills Corporate Champions event, alongside its sister organisation and organiser of the event, Surrey Hills Enterprises.
The Allianz Tree Planting Day, saw over 100 Allianz staff come together to plant 1,000 native woodland trees at Knowle Park, in Cranleigh. This was part of recognising insurance company, Allianz's efforts to reduce their paper use as a business.
Surrey Hills Society was involved in sourcing the native trees and biodegradable protection and led the planting on the day. Species planted included English Oak, Hawthorn, Field Maple, and Sweet Chestnut and will make up the 'Allianz Copse' for future generations and visitors to the park to enjoy.
Read more here.