12 people attended our very useful map reading day with our experienced leaders. The course is always a success and comes back every year by popular demand. This time we were delighted to have so many non-members in the assistance.
A few participants commented the day:
"Excellent Day – just what I needed – map reading with compass!"
"Very informative and good value!"
"Very useful and I should be able to put things learnt into practice!"
"Very useful course and good catering!"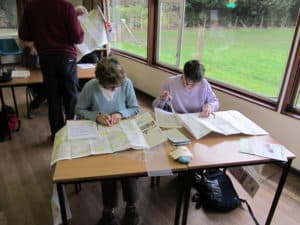 The morning was spent in the hall to learn how to read a map. In the afternoon there was practical training in the surrounding woods and fields.