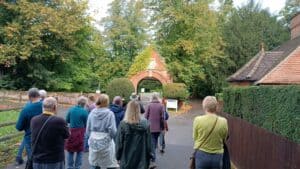 We scheduled a walk in Dorking as one of our Free Walks of the Month this year to mark the 150th anniversary of Ralph Vaughan Williams' birth and he lived in or near Dorking as a child and later in life so we were searching for evidence of his time there.
You do not need to search very hard for he has left a living legacy in Dorking. He was involved in the establishment of the Leith Hill Music Festival and was its principal conductor from its beginning in 1905 until 1953. The festival continues to this day and celebrates the number of choirs in the area who come together to compete. RVW believed that music should exist in the community and so was a real supporter attending rehearsals and conducting the performances.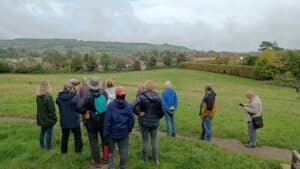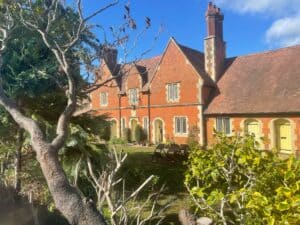 As part of this, he was one of the people involved in getting the Dorking Halls built. This is a beautiful art deco building which has now been refurbished and continues to be a venue for cinema and cultural events of all types.
The walk took us through the town and up onto the Nower. The views from here towards the North Downs are amazing. The path then took us down to cross the A25 and walk back along the bottom of the slopes of Ranmore. Several people commented that they did not know there was such beautiful countryside so close to Dorking town. The weather had cleared up just in time and it was a very pleasant Sunday morning walk.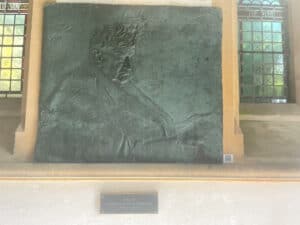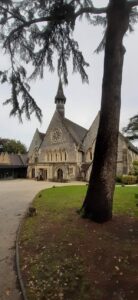 When we rejoined the road to head back into Dorking, we passed the spot where the house White Gates where the Vaughan Williams lived used to stand. It would be easy to imagine that he wrote the Lark Ascending here looking over the leas running along the base of the North Downs. This cannot be the case as he wrote it in 1914 but it could easily have been instigated by his time at Leith Hill Place in his youth. Certainly his time in Dorking and its surrounds gave him a love of the country.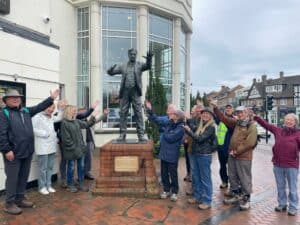 So there is a statue outside the Dorking Halls and there is a bronze relief memorial in the porch of St Martin's Church, both of which we saw. The cultural activities which he helped to establish have left living reminders of his time there and have had a lasting effect on the town.
Stella and Martin Cantor