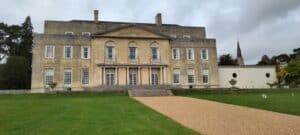 On Saturday 22 October the Society held its 14th Annual General Meeting at the prestigious venue of Gatton Park.
52 members attended and were welcomed by our President, Chris Howard, who also thanked them for their continuing support.
This was followed by reports from the Chairman, Gordon Jackson; Chair of Events Committee, Sall Baring; Project and Volunteer Coordinator, Christa Emmett and the Treasurer, Martin Cantor.  All these reports are available to read here.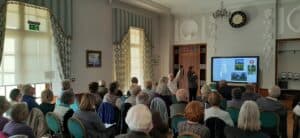 The Park and Garden's Manager, Dan Ryan then gave a short talk about Capability Brown with particular reference to his design of the historic Gatton Park landscaped gardens.
After a most enjoyable lunch, three Gatton volunteers led tours around the park and gardens, accommodating everyone's requirements even including a private tour for one lucky lady!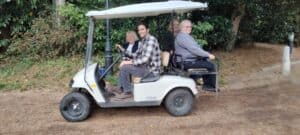 Those with mobility issues were given a ride down to the Japanese garden – much appreciated by those who took it.
We learnt that a key part of Brown's design for Gatton was a series of ponds which culminated in the main lake.
The lake is around 30 acres in size, the main body of it narrows to the north to form an area which is known as the Panhandle. The lake has two islands, one of which is home to the only Heronry on private land in Surrey and the other supports many other species of wildfowl.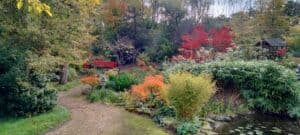 Walking through the park we went down to the Japanese Garden to see the changes that have recently been made, including new steps to improve access. The rock garden has also been recently renovated and it is around that area that there is a beautiful display of snowdrops in February.
We then went onto St. Andrew's Church where our volunteer guide, Alan gave us a brief history of the church and drew our attention to the stained glass windows and memorial plaque of Jeremiah and Mary Coleman. Sir Jeremiah Colman, of mustard fame, was the last owner of the Gatton estate before it was left to The Royal Alexandra and Albert School.
Quotes received from members include:
"I enjoyed my day at Gatton Park and found the AGM talks very useful. The day ran so smoothly thanks to your efficient organisation and as a result of what I learned I hope to encourage more residents from this village to join the SHS."
"It was a super setting and was very informative. I learnt today how far reaching the Society is and that there is more to it than arranging events for us to explore the Surrey Hills which I, for one, appreciate very much. The lunch was pretty good, too!"
"Excellent AGM.  One of the best.  Thanks to everyone who worked so hard to make ut such a success."