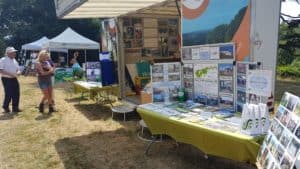 The Surrey Hill Society has worked with, and supported, the Gatton Trust for a number of years.  It was, therefore, only fitting that when we decided that we wanted to hold an anniversary celebration in the east of the county, we should look towards Gatton Park, near Reigate, as the venue.  Fortuitously, they always hold a Country Fair at the beginning of July so we approached them with the idea of having our own section within their larger event.  The idea appealed to them – so planning commenced.
Our ongoing work with Gatton Trust had already led to our Membership Secretary & Trustee, Stella Cantor, becoming a Gatton trustee.  Under her direction, the event took shape and evolved into a major display incorporating not only Surrey Hills exhibits, but those of our wider countryside partnerships including the Downlands Partnership, artist Louise Dunckley's period posters of the Surrey Hills, and artist Molly Verity, with her landscape sketching, drawing for young children – plus the Tales of the Tillingbourne puppets and dressing-up clothes together with storytelling which put the puppets into context.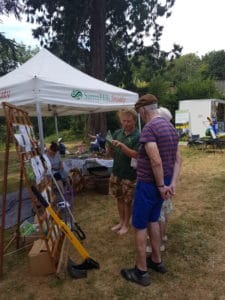 The organisation and logistics for this display created a significant amount of work – especially on the back of our 60th anniversary celebration at Loseley Park only a few days earlier.  The event wouldn't have worked without all the volunteers who gave up their time to man the stands, lead our free guided walk around the area, and to generally help out on the day.
As our Chairman, Christine Howard, said in her thank you note "Haven't we come a long way…. A few years ago we would not have had the team or the resources to pull off this event.  Great team!  Well done and many thanks."
The wonderful weather, the glorious landscape of Gatton Park and the visitors to the Fair, all helped to make this a truly memorable day and a worthy celebration of the AONB's and Society's anniversaries in the east of the county.