On Friday August 24th, we made a follow up visit to the Patchworking Garden Project in Dorking which was established less than four years ago in the stunning setting of a walled garden with views to Box Hill. Its aim is to bring positive change to people's lives through friendship and gardening.
Around fifteen of us gathered to tour the garden followed by tea and cake. The majority had not visited the garden before, but those who had were impressed by the enormous change in just two years when we last visited the garden.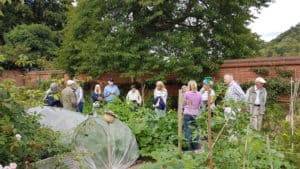 The theme of our visit was "harvest" and in addition to Susie Turner, an SHS and Patchworking Garden volunteer, we were led by Jennie Philips, their fruit and vegetable specialist. The number of vegetables grown outside was extraordinary; including rhubarb, onions, leeks, garlic, broccoli, cabbage, courgettes, corn, carrots, squash, parsnips, beetroot and beans and in the poly-tunnel, a wealth of cucumbers , tomatoes, aubergines and ripening melons. Jennie told us she – like others – had just learnt as she went along but given the impressive display, we are sure considerable knowledge and experience was involved.
The short introductory talk taught us quite a bit. We learnt that the garden supports people ranging in age from late teens to late eighties with a diverse range of needs including mental health conditions, physical disabilities and bereavement. Volunteers attend either a morning or afternoon session each week and ideally everyone leaves feeling better than they did on arrival.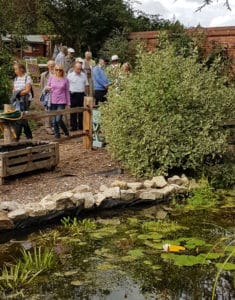 And what of the changes? Well, there are quite a few: the workshop where activities take place in the winter is now insulated, a new kitchen shed is under construction and an outdoor kitchen area has been added, enabling volunteers to make soups in the winter months. Aesthetically much has improved, rough grass has made way for a very pretty patchwork bedding area: a couple of our visitors thought they may copy the idea. A pond, surrounded by plants and home to a variety of wildlife, looked as if it had been there for ever. A willow house provides an opportunity for therapeutic weaving and a peaceful place to sit, while in place of a mass of brambles and weeds is a beautiful wild flower garden. There were also lots of signs of creativity including a stunning bug hotel, a butterfly made from bottle tops and at the entrance, totem poles made from pottery.
It was a fascinating afternoon made all the more enjoyable by the dry warm weather although shortly after leaving, the heavens opened giving the garden a much needed soak.
The garden has been in the spotlight over the past year with a visit by HRH the Duke of Gloucester and an award from Surrey's High Sheriff. Anyone interested in becoming a Friend or Volunteer should look at the website www.patchworkinggardenproject.co.uk.