In late January, the Society was lucky enough to enjoy a fascinating talk by one of our Vice Presidents, Ken Bare, in the lovely Shere Village Hall.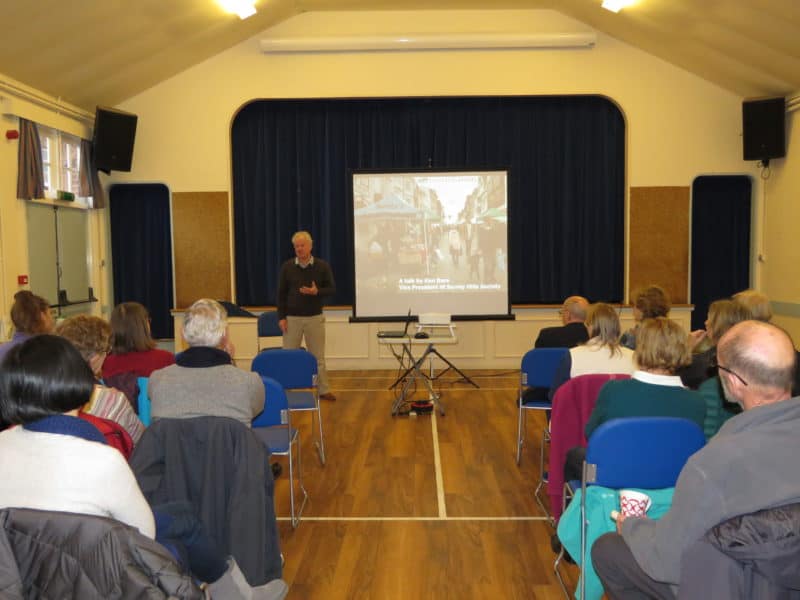 Ken has a wealth of experience when it comes to the Surrey Hills and in particular to the small artisan businesses that have started and grown over the years.  The talk lasted for an hour and a half and was very varied in relation to the businesses that not only survive but thrive in the area.  Ken also discussed in detail the various problems that some of the smaller producers faced on a daily basis and also ways people are diversifying in order to create a new business from an existing one.
An example of this is The Fillet and Bean which is a fully fitted kitchen within an american Airstream caravan.  The owner runs a farm in the Surrey Hills and uses his own meat to supply the unit.  The caravan is taken all over the area to support numerous shows, fêtes, corporate launches, etc and provides wonderful free range meat dishes and good quality locally roasted and blended coffee.
The variety of businesses described was really diverse – including a lavender grower, a coppice expert, a rocking horse maker, food & drink producers and many more.  It was an inspiring talk and one that reminded us of the quality and varied local produce that we are fortunate to have on our doorsteps.
Although this talk formed part of the Society's events programme, it is also available to be given to external groups and organisations – just contact info@surreyhillssociety.org for more details.