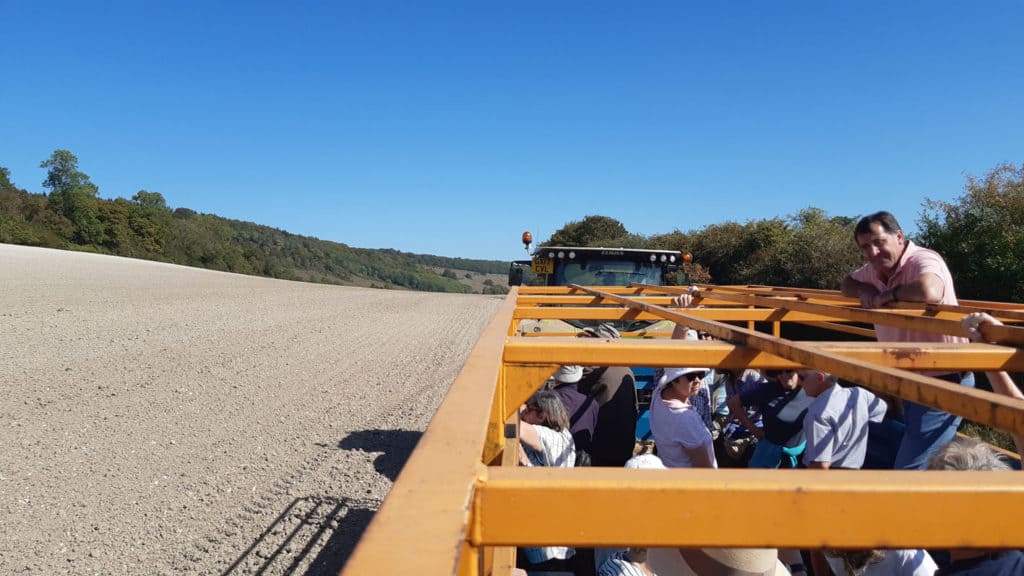 On a glorious mid-September day, members of the Society visited Manor Farm at Wotton to learn more about farming in the midst of the Surrey Hills. After a brief introduction in the farmyard, we climbed into a large cattle trailer and were taken for an extended trip around the area to see various aspects of the business.
We were privileged to be hosted by Paula Matthews and her husband Laurence – both of whom took time out to give us a fascinating insight into their work. Whilst Laurence joined us in the trailer to give a commentary on what we were seeing, Paula did a sterling job driving around opening gates for our tractor / trailer and keeping everything running smoothly. However, once we arrived at the Belted Galloways, we had a complete role reversal. These are clearly one of Paula's loves and the time we spent on that aspect gave us a much better understanding of the rearing of the animals, how they are used effectively for conservation grazing and, ultimately, how they become part of the food chain.
This latter aspect was particularly relevant since Laurence had taken the landrover at that point and dashed back to base to get the barbeque sorted out ready for our meal of home-made Belted Galloway beef-burgers plus all the trimmings. Truly an example of "from farm to fork".
Manor Farm is one of the larger farms in Surrey with the Matthews family managing about 3000 acres as tenant farmers, under about 10 landlords, plus another 30 or so of their own land. We learned a little about the complexities of such an estate and the way that global economics play such a major part in modern farming. One example of this was how the selling price of different grades of wheat are impacted not only by international demand but also by exchange rates and climatic issues – which are well beyond the control of the producer.
We all had a great time on this visit, learning a lot, seeing another important aspect of our Surrey Hills, and gaining a better appreciation of the way that farming shapes our landscape. Oh, and we had some brilliant food as well! The finale was the opportunity to order "Beltie Beef Bags" for the next sale of meat from the farm. More details of this aspect can be found on their website www.manorfarmsurrey.com.