The rollercoaster continues! In our last newsletter I wrote about how we were just beginning to start events again as the last lockdown eased. Since then we have managed to put on over 20 events. Although the rules for walks would have allowed us to have as many as thirty in a group we felt happier conducting events in a number of groups of six, each with their own group leader. This format worked really well, and I would like to extend a particular thank you to all those volunteers who helped overcome the various additional challenges that we had to face. There is no doubt that all our members appreciated the opportunity to join our events and almost everything we put on was fully booked! I was most impressed that, despite the limitations, we had a varied programme with visits to a number of gardens, a sculpture park and of course a selection of walks for all levels of ability. You can read more on this topic in the next article.
In the last few weeks, we have of course been in lockdown again and yet more events have had to be postponed, but it has actually been quite a busy time, nonetheless.
The day before the new restrictions, I was delighted to attend the opening of Optohedron (see below) , the new Inspiring Views sculptural bench by Will Nash just above Newlands Corner.
The Society has been involved in supporting this fabulous Surrey Hills Arts project. The sculpture is wonderful, and it now sits in a stunning setting.
The strength of the Inspiring Views project is that it is not only about excellent art, but the accompanying landscape improvement and conservation work provides a lasting benefit to the Surrey Hills. The Surrey Hills Trust Fund is committed to ensuring that the necessary maintenance of all the Inspiring Views locations is carried out on a regular basis.
There are two further benches being planned. Fundraising for the new artwork, Radius by James Tunnard will connect the North Downs Way National Trail to a truly inspirational view at Denbies Hillside.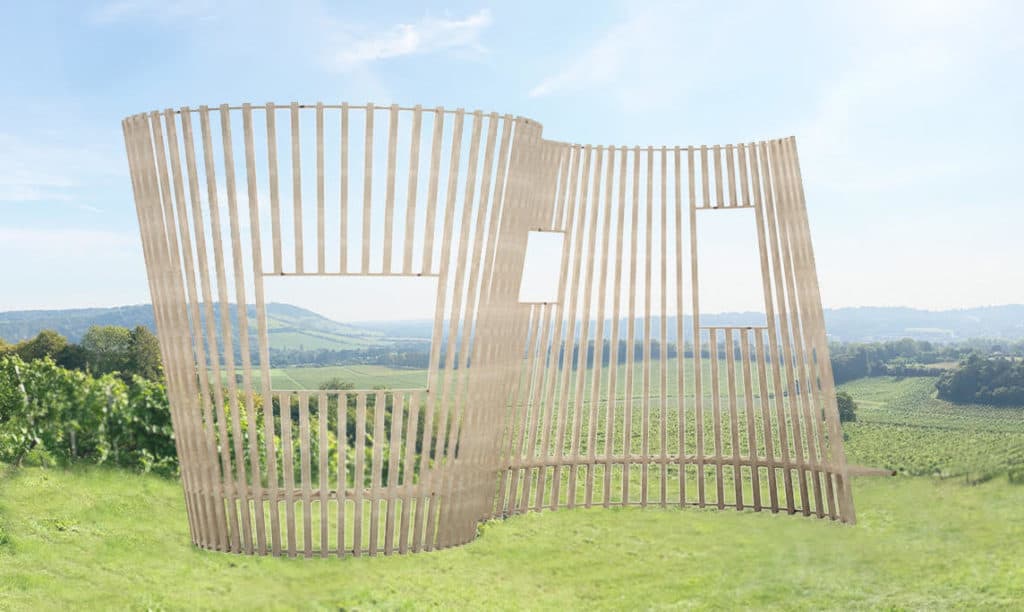 For a donation of £80 supporters can have their own personalised batten engraved. You can find more information here. Plans for the development of the second bench are currently in an early stage of development.
There is one other important feature of Radius. I informed members in a recent MailChimp that Anthony Wakefield, the former sponsor of our newsletter, died during the summer. In discussion with Anthony's family, the Society has agreed to sponsor the planting of an oak tree, near to Radius, in his memory. Anthony specifically requested, shortly before he died, that a tree be planted. We all feel that he would have thoroughly approved of this location, especially as he was always a great champion of the arts and sculpture in particular. I'm sure you will all wish to join me in sending our deepest sympathy to Anthony's family.
You will be aware that we would normally have held our AGM in October / November. Due to the current pandemic, the trustees have decided to delay the Society's formal AGM until early next year. However, although we can't meet in person, we have decided to hold a Zoom event. So now we are planning for the Society's own catch up on Saturday 28th November book here.
Your Events Committee is working to produce a full diary of events as soon as we are allowed to do so and I hope that we may even be able to run a couple of outdoor events in December, although this is obviously dependant on Covid restrictions. In the meantime if your thoughts are turning to Christmas Shopping may I take this opportunity to remind you that a perfect gift is a Society Membership pack which you can order online here.
AND FINALLY Surrey Hills Enterprises is inviting people in Surrey to pledge their support to buy at least 1 in every 5 of their Christmas purchases from a Surrey Hills business and help the local economy and environmental sustainability.
Find out more here and be inspired by the outstanding local products and gift experiences, all with the Trade Mark Surrey Hills accreditation.
Gordon Jackson