"Be Nice, Say Hi" on the first Surrey Hills Greenway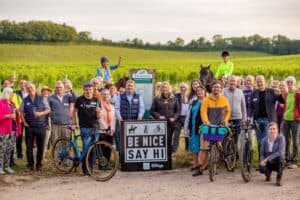 The first Greenway in the Surrey Hills Area of Outstanding Natural Beauty (AONB) was officially launched today (23 September) by the Chairman of Surrey County Council, Helyn Clack. Known as the Leith Hill Greenway, the new route provides greater access for people of all abilities to enjoy beautiful countryside in a sustainable way for their health and well-being whilst reducing conflict. It is hoped this new route will be the first of many Greenways across Surrey linking the countryside with towns and cities.
The brainchild of Cycling UK, Greenways are a network of mostly off-road routes that connect people to facilities, rural businesses and open spaces in and around towns, cities and the countryside. The new 15 km Leith Hill Greenway route provides an opportunity for Surrey residents and visitors to enjoy the famous views of Box Hill, one of the UK's most spectacular vineyards at Denbies and the National Trust's majestic Leith Hill tower, with its sweeping panoramic views of London and the English Channel. Along the Greenway, the countryside is blessed with rich wildlife, ancient woodland, historic sites and rolling fields.
The new route is well signposted, easily accessible and safely off-road, and encourages people to leave their vehicles at home and explore the area in a more sustainable way. The route can be started and finished at any point where there is a directional sign, meaning visitors can take on the challenge of the full 15 km or just a section of the route.
Duncan Dollimore, Cycling UK's head of campaigns:
"The Greenways initiative is a fabulous opportunity not just for Surrey visitors and residents but also for local businesses along its linked-up network of traffic free and traffic light routes. The vision of being able to journey from London to Leith Hill in peace and quiet is something all lovers of the countryside should support, whether you walk, cycle or ride horses.
"Cycling UK is hugely supportive of the Surrey Hills AONBs ambition and have helped advise on the work to date linking Leith Hill to Denbies Wine Estate. We'd encourage everyone to give it a go, and while doing so bear in mind the mantra of our joint education campaign with the British Horse Society: "Be Nice, Say Hi"."
Mark Weston, Director of Access at the British Horse Society:
"We are thrilled to see that the Greenways initiative is helping to improve access for all users in the Surrey Hills. As one of the vulnerable road user groups, horse riders face considerable dangers on our roads and the need for safer off-road riding opportunities has never been greater.
By promoting the BHS and Cycling UK's joint campaign, 'Be Nice, Say Hi' in the area we hope that we will be able to educate more riders, cyclists and walkers to be confident to pass one another comfortably and safely."
Fiona Spencer of the Ramblers Association (Mole Valley):
"As Ramblers we welcome the Greenway initiative as a way to encourage more people to discover the joys of walking in nature. The Ramblers Association, through its local groups, of which there are 16 in Surrey, offers sociable volunteer-led walks to suit all levels of experience. Since Covid-19 the desire of people to visit the countryside has become ever more apparent. Well guided trails are important in helping people feel safe in walking, whether alone or with others. Exchanging a friendly smile with those you may meet, be they on foot, on horseback or on bicycles, can only add to our pleasure. So Be Nice, say Hi."
Heather Kerswell, Chair of the Surrey Hills AONB Board:
"We're absolutely delighted to have Helyn Clack, Chairman of Surrey County Council to launch the new Leith Hill Greenway. As more and more people recognise the benefits of discovering our countryside, the new Greenway will help them to do this by opening up the landscape for accessible exploration whilst encouraging people to respect and protect the natural environment as they do so.
" We are so grateful to all our partners, especially DEFRA for funding, Denbies for giving permissive access on their land for part of the route, and Surrey County Council for getting it all done!"
This project has been funded through the European Agricultural Fund for Rural Development (EAFRD).
For more information about the new Leith Hill Greenway, including a map of the route visit: https://www.surreyhills.org/discover-route/leith-hill-greenway.