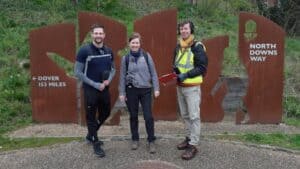 In an earlier post we let you know that our President, Chris Howard and Vice President, Ken Bare were working with BBC Radio Surrey to record a walk along the Surrey stretch of the North Downs Way (NDW) National Trail from Farnham to Botley Hill. The project which formed a core element of this years Surrey Day has been a great success with daily coverage in the two weeks leading up to 7th May and lots of air time on Surrey Day itself.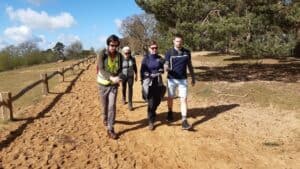 Each day there were several segments on BBC Radio Surrey's James Cannon Breakfast Show with repeats later in the day and episodes available to listen to via BBC Sounds. The big finale on Surrey Day itself was an hour-long broadcast of the entire walk. This version can be found on BBC Sounds – great publicity for the project and for the NDW.
We became involved because Chris Howard is also Chair of Visit Surrey – the official tourist board for Surrey – who are one of the three organisers of Surrey Day along with BBC Radio Surrey and Surrey Life magazine.
Ken and Chris were the guides for the walk, planned the logistics and timings, arranged the interviews with key producers, landowners, walkers and others along the route and generally hosted the project. Our BBC partners were Lewis Mason (reporter and focal point for the walk) and Simon Furber (sound engineer and producer). All four of us quickly gelled into a lively team and made the project a joy to be part of.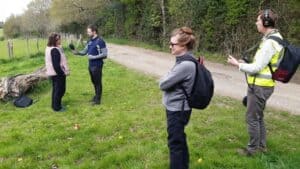 We broke the route up into four sections of up to 15 miles per day – Farnham to Guildford, Guildford to Dorking, Dorking to Reigate, Reigate to Botley Hill. With the additional mileage to and from stations and other start / finish points, this gave us about 50 miles of walking.
Anyone who has walked the NDW will be aware that it includes some significant hills such as the climbs to St Martha's and Newlands Corner or the 275 steps from the bottom of Box Hill to the top. But there are also numerous other hills which are just as steep but less well known. Our route planner showed us that during our 50 mile walk we covered an elevation (i.e. vertical distance) of over one mile. No wonder we had to stop to catch our breath occasionally!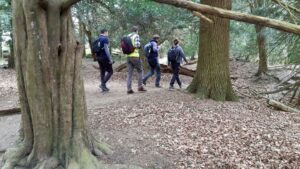 Amongst the aims of the project were promotion of the NDW to encourage more people to get out and enjoy our Surrey countryside. To this end, we were joined for one day by Peter Morris who is the NDW trail manager and on another section by Noreen Siba who is a Trustee of the Downlands Trust.
Another key aspect of the walk was to highlight some of the businesses and producers along – or close to – the route and the way in which they are an important part of what makes the Surrey Hills so special. We were also privileged to meet up with the Lord Lieutenant and his wife (who walked part of the way with us), Bill Biddell from the Hampton Estate, Alistair Burtenshaw from Watts Gallery and many others whose work makes the NDW such an interesting route to walk.
If you have not yet done so, we would recommend listening to some of the coverage to be found on BBC Sounds together with the numerous images which are associated with the walk. Better still, we hope you will be inspired to put on your walking shoes and head out to walk parts of the NDW yourselves.
Ken Bare