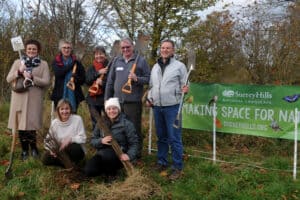 The humble hedgerow is an incredibly important habitat in the British landscape. Consisting of woody managed lines of trees, hedgerows were originally used to mark boundaries and enclose livestock. However, they also provide a multitude of benefits for wildlife, including much-loved species such as the hazel dormouse, hedgehog and barn owl.
Hedgerows containing a mix of native tree species, can provide food sources for nature, such as nuts and berries, throughout the seasons.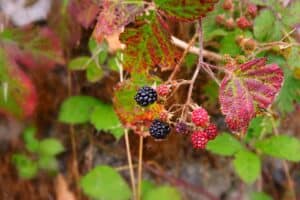 The flowers of species such as Hawthorn and Blackthorn support a range of invertebrates, which in turn are fed on by bats and birds. However, as well as providing food, hedgerows act as important wildlife corridors, helping wildlife to travel safely across the landscape. This is particularly important for genetic diversity, preventing isolation and inbreeding of small populations, which subsequently become susceptible to disease.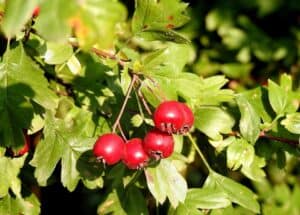 Therefore, by allowing wildlife to travel safely across unsuitable areas, hedgerows facilitate dynamic populations of species and increase connectivity between good quality habitats in the landscape.
Alongside the benefits to wildlife, Hedgerows also provide a range of ecosystem services which can be defined as the benefits we gain from ecosystems. Hedgerows can provide regulating ecosystem services, for example by helping to support pollinators of important crops, mitigating flooding and filtering out harmful air pollutants to name but a few. They are also important sequesters of carbon and may be more effective and beneficial than trees, in certain landscape types. We can also gain a wide array of cultural benefits from hedgerows, which act as a symbol of cultural heritage in many farming landscapes.
The coronavirus pandemic has made us all aware of how important nature is for our wellbeing and hedgerows contribute to enjoyment of recreational activities, as well as increasing green features in urban areas.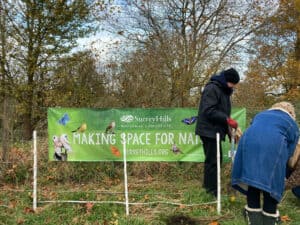 Since starting my post in early October, I have been working on a range of hedgerow planting projects, including the first tree planting day for the Surrey Hills Champions, a new initiative led by Surrey Hills Enterprises in partnership with Surrey Hills Society. The tree planting day, sponsored by Squires Garden Centres and enterprise M3, took place last Sunday at Clandon Wood Natural Burial Ground and involved the Society helping with planting a 50m stretch of native hedgerow along the perimeter fence.
We planted a native mix of six tree species including Hawthorn, Blackthorn, Field Maple, Hazel, Dog Rose and Spindle. This will help to provide a range of food sources for wildlife and will create a nice thick hedge for species to shelter in. It was great to see all our Champions getting involved in the tree planting and there was a wonderful feeling of community spirit as everyone worked in small teams to dig the holes, plant the trees and add the rabbit protection.
In a relatively short period of time, we managed to get all 300 trees planted so thank you to everyone who came along!
We have a few more hedgerow planting projects in the pipeline, including the extension of the hedge at Clandon Wood by a further 250m.
If you would like to be involved in further planting projects, please do get in touch. Our hedgerow projects are helping to increase connectivity across the Surrey Hills which will have great benefits for nature and our beloved landscape. You can find out more about becoming a Surrey Hills Champion here.
Christa Emmett
Surrey Hills Project and Volunteer Coordinator